Dear SMV members, we are making SMV more success oriented. From now on copyrighted material posts will be removed from SMV. Only discussion on success oriented topics is allowed. Thank you. Viktorados
In this motivation forum you can get inspired and motivated to lift up your mood and place a smile on your face;) Self improvement and motivation

Moderator : viktorados
Hi guys,
Yay! A community of like-minded people. I found SelfMadeVIP whilst googleling "The Law of Attraction." I'd
like to share my story with you guys. I've been a student of the law of attraction for years. 3 years ago, I was 300 lbs or so and working a dead-end retail job. By using the law of attraction in conjunction with really hard work, I've changed my life. I now weigh a healthy 200 lbs and work as a graphic designer. I went to school, got my degree, and found a job. But it wasn't all handed to me. The key I believe is (a new way of saying an old saying) "The Universe helps those who help themselves." But one of
the keys to making those changes was using my Goal Board/Vision Board.
I'm a graphic designer by trade. And I spent a few days creating this fantastic goal board. I actually have it placed above my tv in my living room so I see it all the time, lol. So anyway, a year ago, I was sitting on my porch, thinking about using my graphic design skills to help people create their own vision boards. The only problem is that creating a vision board is a really personal experience. Going through magazine clippings, or online galleries to try to find images that mean something to you, etc. I talked to some friends who were like-minded, and had changed their lives for the better after having watched "The Secret" and "What the Bleep Do we Know?." They liked my idea, but they agreed that it'd be a hard sell,
but that I could offer my services in creating and designing personalized goal boards for people. They would send me their images/quotes, and I would design my stuff for them.
The more I thought about it, the more my idea began to flush itself out/transform. I honestly think that God or the Universe or Whoever, gives us ideas on how to create wealth, how to attract things into our lives, and we have to follow that passion, and do it quickly. To quote that guy in The Secret,
"The Universe likes speed."
So my idea changed. I decided to create a series of wallpapers for your desktop or laptop computer that inspire you to make changes in your life--using the law of attraction. I mean, anyone can slap an inspirational quote on a picture of a sunset and call it a day. Not everyone
takes the time to create beautiful inspirational wallpapers. I began to think, what areas of life do people
most want to change? I came up with 7:
Expressing Gratitude
Generating Wealth
Attracting Love
Healthy Living
Tranquility & Happiness
Using the Law of Attraction
Gaining Inspiration
A year ago, almost to the day, I started to design these wallpapers. I spent literally 2 to 3 hours a night working on these. Here's a sample image of one of my faves: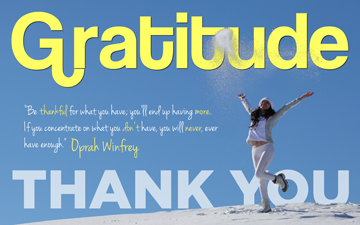 I have many more in the works. But the next step after creating these, what I call, "VisionPapers" -- a play on Vision Boards/Wallpapers, was to create a website to post them on. So I've spent the last few months creating a website to showcase them.
Here's my website:
http://www.VisionPapers.com
I hope you like it! I'm really proud of it. There are some free wallpapers on there. But there are also some that cost money...wait for it....25 cents each!! lol. Remember, I spent hours/days designing each and every one of these VisionPapers. I had the idea, in a moment of serendipity, to create this site and offer these wallpapers to people. I hope you don't look at this as an ad, or a deception. I created this website with two things in mind: 1, to help people. 2, to generate a small income per month to help me
pay my school loans. I've followed my dream/goal of creating this for over a year, and now that it's live, it's all about getting the word out, which is why I decided to post in this forum. I'm proud of myself and my work, and I hope you enjoy it as well. Thank you for your time guys.
-Kelsey
Newbie

Posts: 1
Thanks: 1
Joined: Sat Oct 06, 2012 7:40 pm
---
This is very inspirational. I wanna do this sometimes
Did your goals going well?
Newbie

Posts: 1
Thanks: 1
Joined: Sat Oct 27, 2012 3:22 am
---
Indeed this is an important post as it has described power of vision which change your future. The set of information is indeed useful specially for the young minds.
Newbie

Posts: 7
Thanks: 0
Joined: Tue Jan 15, 2013 4:56 am
---
just like a bucket list!

it would pursue you to reach your ultimate goals. it would inspire and strengthen your beliefs that one can dream big and get it. =)
Discover These Easy Habits That Only The TOP 1% Of
Individuals In The World Use To Become Extremely Rich, Successful, And Happy In Life
www.leaderinus.com/access
Curious Child

Posts: 14
Thanks: 0
Joined: Mon Jan 21, 2013 12:19 pm
---
---
Return to Motivation and INSPIRATION
Related topics

Replies
Views

Last post
Who is online
Users browsing this forum: No registered users and 0 guests